SPROUTING BROCCOLI !
Written By Jennifer Lee O'Brien @jenniferleeob, Inspiration & Guidance From Our Ace Sous-Chef Cameron Goodwin.
Spring is definitely upon us. While we are buzzing with anticipation for warm, beer-filled days in our courtyard, our team are even more excited to welcome back some of our favourite seasonal produce.
Where winter calls for that comforting, rustic flavour of root vegetables (we loved parsnips & savoy cabbage this year), and we can't wait to get our hands on some dreamy asparagus & sugar snap peas, we're really embracing this tasty intermediary period — and we think you should too.
Introducing our current produce-superstar, Sprouting Broccoli.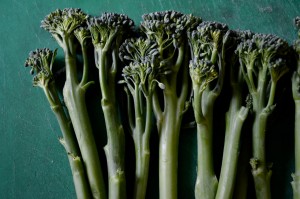 Food-cousins with the otherwise standard variety, Sprouting Broccoli is a cruciferous plant with long, asparagus-like stems that comes in season between mid-February to May. Surprisingly delicate in taste, both the heads (florets) and stems are meant to be eaten, although their preparation is markedly different. The florets are best when steamed, buttered, pickled and deep-fried; this stands in contrast to the stems which can be shaved, pureed (delicious as a garnish) or again, fried until crisp.
While Sprouting Broccoli is a versatile little veg, we think it really compliments smokey meats such as bacon and smoked pork, as well as a few of our other favourites: wild garlic, goats cheese, orange, tarragon & parsley.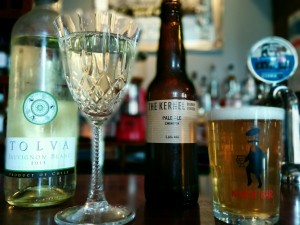 Wine with that? Well, our chef recommends a dry-white, and at the Cross Keys, it's definitely got to be our Chilean Sauvignon Blanc. Sprouting Broccoli is just as awesome paired with citrusy-type beers, especially those that include a cascade hops. This American-grown gem can be found in London-brewed The Kernel's "Cascade Centennial Chinook" Pale Ale, but we'd also recommend Partizan Centennial Citra Pale (you know, the red-labelled one!), both of which have been stocked in the pub.
Now, here's the fun part: our very own sous-chef has crafted-up an original recipe for our readers to try at home. Inspired by Sprouting Broccoli's contrasting form of preparation, cascade hops, and the promise of summer, Cam put together a warm, vegan salad that is just as fresh & light as it is crunchy & moreish — showcasing our featured veg's tasty, transformative power. Yeah, we tried it. And yes, it's awesome.
Of course, if you're not in the cooking-mood, the "Broccoli & Orange" spring-salad is definitely making an appearance on our menu for you to enjoy. And conveniently, we've got all the right drinks to pair it with — and the warm spring terrace to match.
"Broccoli & Orange" Recipe (vegan!)
Ingredients
– 1 pkg of sprouted broccoli
– 1 orange
– 1 medium-sized bowl of cornflour
– 1 small bowl of sugar
– salt, to season (and big-pot blanch)
– 1 large bowl of ice water
1. Separate stems from floret heads & blanch heads in big pot with heavy salt
2. When cooked, quickly transfer florets to a bowl of ice water
3. Roll/sift broccoli florets into cornflour & when coated, tap off excess flour and deep fry at 180 degrees C till crispy — remove from fryer and drain on kitchen paper
4. Segment orange, sugar & blow torch till caramelized
5. Shave the greens off the broccoli stems till you attain a white colour & finely slice
6. Mix completed ingredients & squeeze remaining juice over salad to taste.
7. For best results, enjoy on our terrace with your preferred citrusy-beverage.
@crosskeysleeds #XKeysKitchen Tip of the Week: Big-Pot Blanching !!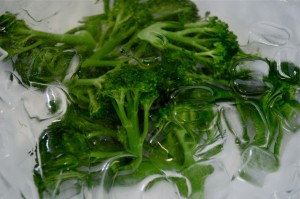 Sounds simple, but big-pot blanching is an essential component in the production of restaurant quality veg at home.
Step one: Get a really big pot (you knew that was coming, right?). Fill with lots of water (approx. 10 litres) and a decent amount of salt — if you think you've added enough, add a dash more.
Step two: Get water to a boil and add the broccoli. Make sure the water is fully boiling before adding — this process sets the chlorophyll in the broccoli and keeps it green!
Step three: Let the broccoli boil for about 30 seconds, then turn water down to simmer until broccoli is fully cooked.
Step four: To finish the big-pot blanch and maintain colour, remove broccoli from heat and add straight to ice-water and leave for a few minutes until cool.
Result: Delicious & gorgeously-green sprouting broccoli, naturally!
Come and Visit us and let us share your free time, or even book a table Here x
See you in a Fortnight,
Team Cross Keys x