Howdy y'all, 'Sup, Hola, Hi-diddly-ho, and other such typical American greetings.
It's been a busy month for us here at North. We kicked off at the very beginning of July with North Bar's 18th Birthday Bash.
Finally legally able to buy a drink, North Bar spent the 1st of July metaphorically stumbling round town shouting "It's my BIRTHDAY!" to unimpressed door staff, buying our first pack of obligatory cigs, planning our first tattoo, and going to see 18 rated films at the cinema only to realise that they never bother ID-ing you at cinemas anyway. It was a metaphorically fun-packed day.
In reality we actually had a big old shindig at North Bar, with cake, balloons, party hats, presents, and all our beers at 1997 prices. It was great to see so many familiar faces and we had an absolute blast. (Our Mum was on at us to send out our Thank You letters, but it's August now so we assume we're off the hook.)
As part of our birthday celebrations we published a gorgeous little book full of tasting notes, quips, and beloved beers from some of the greatest brewers and beer folk in the world. You can still pick up a copy for £5 in any of our bars. The perfect companion for any beer fan. Buy one for yourself. Buy one for your mum. Buy one for your dog. Buy one for your local MP. Buy one for a stranger on the street. They might be a bit confused, but that's part of the charm.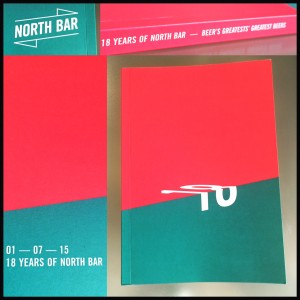 Then at the end of the month we had our US Beer Festival, culminating in a Tap Takeover in North Bar by Firestone Walker, and a the Odell Beer Dinner at Cross Keys. We were up to our eyeballs in amazing American beer.
The Odell Dinner was hosted by none other than Mr Doug Odell, who spent the evening sharing his wisdom to a crowd of adoring beer fans. The night consisted of eight different Odell beers paired with eight different buffet dishes from the Cross Keys kitchen. Ever dedicated to the cause, we bravely worked our way through each delicious pairing, emerging victorious, merry and very full.
Rumours abound of a skilled sneak-thief who made off with a block of gouda the size of a human head at the end of the night, though reports are unconfirmed.
It really was a great couple of weeks, and things look to be getting even better. Coming up we have Preston's 2nd Birthday Party, Cycle to Work Day, Leeds International Beer Festival, and another Cross Keys Beer dinner on the cards (more information to follow shortly on that one).
Listen out for exciting updates on all things North, and don't forget to follow us on Twitter, Facebook and Instagram.
Until next time, Buh-bye!
---
North Bar: Twitter | Facebook | Instagram
Cross Keys: Twitter | Facebook | Instagram
Further North: Twitter | Facebook | Instagram
Alfred: Twitter | Facebook | Instagram
Preston: Twitter | Facebook | Instagram