We're really proud to be from Yorkshire, and here at the Cross Keys Kitchen we think of ourselves as pretty darn lucky to be able to work with suppliers that share our passion for local produce.
While we're equally fond of our meat, bread, and vegetables, there's definitely something special about our cheese, so much so that we decided to go on the first ever #xkeyskitchen field-trip to meet some of the lovely individuals from Cryer & Stott, one of Yorkshire's finest cheesemongers.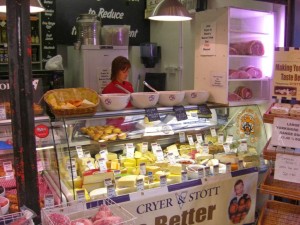 If you're already familiar with Cryer & Stott it's only because they've sourced and produced some of the best cheese in the country. After garnering national-attention for their "Ruby Gold Cheese" (a tasty innovation conceived by owner Richard's passion for West Yorkshire & Wakefield forced rhubarb), the family-run company have gone on to bring their a specially made cheese to venues at the Olympics, developed a cheese for the Queen's Jubilee (Rhuby Crumble, a creamy Wensleydale), and are currently producing a cheddar for the Grand Depart in Leeds — which uses local ale and mustard seed to replicate a cheese from a Yorkshire-twinned town in France.
The company has expanded from humble beginnings selling butter and milk at the Wakefield Market Hall to open several shops across Yorkshire, one of which is "Samuel Valentine" in Castleford, where we met Jemma Flowers to have a chat about our cheese.
"We're all about Yorkshire!" Jemma tells us. Alongside their own line of cheeses, Cryer & Stott work with over 72 producers from across the North who provide a broad range of delicious fare, including local breads, rapeseed oil, and olives with a Yorkshire twist. We love that  Cryer & Stott are really keen to support local producers, some of whom Jemma points out, are "so busy making the products that they can hardly get it out to market". Cryer and stott help cut delivery costs for local artisanal producers; the small team at Cryer & Stott (just 12 staff) spend Wednesday mornings on delivery rounds and at the same time collect fine produce that might otherwise not make it to market. "There's no point in driving around with an empty van when we could be helping out by collecting and distributing great produce," Jemma says "We really get behind their story… and hopefully it supports them too,"
We asked Jemma about our current cheeseboard selection at the Cross Keys, which includes ex-Blur bassist Alex Jones's Blue Monday and Cryer & Stott's own Flatcapper brie. "There are two brie type cheeses that come from Yorkshire," Jemma tells us "but we weren't happy with either… so we decided to go and produce our own." With the help of an independent cheese-maker, Cryer and Stott developed Flatcapper, a delicious Northern brie made with organic Yorkshire milk. Creamy and rich, this gorgeous brie can be found at the Cross Keys on our lunch menu with the B.B.L.T (that's Bacon & Brie) and is a super tasty addition to the vegetarian "Portobello Mushroom Burger". Of course, Blue Monday and Flatcapper are awesome on their own, and feature alongside Colliers Welsh Cheddar on our current cheeseboard line-up.
Wine and cheese always make for a appetizing combination, but we suggest you try our cheese with Ruby Dum from Nierpoort which is bursting with fresh, fruity aromas of red cherries and plums. Ruby Dum is a perfect compliment to these softer-style cheeses. For you white-wine drinkers, our Chardonnay goes brillantly with these cheeses – the soft-mouthfeel and slight acidity really lends itself to brie and is a counterbalance to the rich flavour of Blue Monday.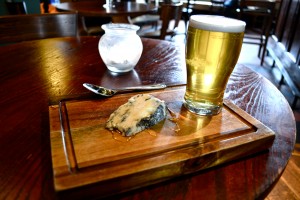 Beer with that? For a tasty flavour-combination, Jemma recommends trying a Yorkshire Blue cheese drizzled with local honey, accompanied by a pale ale. We tested this out with our house ale, Prototype brewed regularly with the help of our staff at Kirkstall brewery and Blue Monday, and it's a cracking match. Pop into the pub to have a try!
Note: We'd really like to thank Jemma & Debbie for taking the time to talk with us – cheers ladies! You can visit their website: www.cryerandstott.co.uk & follow them on Twitter at @cryerandstott
Keep your eyes Peeled for more from us, catch me @jenniferleeob, and @crosskeysleeds.
Don't Forget we have a showcase of our talented kitchen team with a fantastic Beer Dinner with our friends @partizanbrewing on Wednesday 11th June.  Click Here For Ticket Information.